---
---
We all know how hard it is to find good tools that last long. We are always on the lookout for ones that don't take up too much room and can be easily put in our tactical backpack. The tools have to be lightweight and easy to carry. This is a huge problem when it comes to outdoor activities. This inspired us to make the entire new tool combined into a sturdy, durable, and lightweight multipurpose shovel.
This shovel features all the things you need when you are outdoor. Designed to last long and to strike the right balance between durability and strength.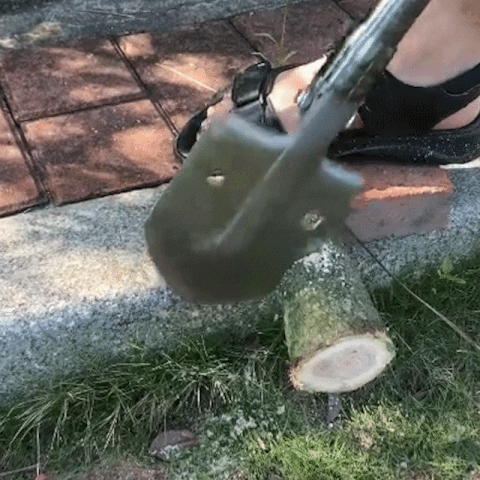 What can this shovel do?
Let us give you a few examples of a survival shovel that will help you during your camping, hiking, or military training. 
Shoveling
Digging
Bracing
A cutting (logs, rope)
Prying
Hammering
Chipping

Loud emergency whistling
Chopping
Camera tripod
Wire clamping
Axing
Hoeing (gardening)
Hooking
Peeling
Chiseling
Sawing
Shearing
Entrenching
Bottle/can opening
SIZE
Mini handheld: 4.1 x 4.8 x 14.2 inch
Large long handle:5.2 x 6.3 x 27 inch
---
Very cool tool
Cool and interesting tool, very useful while camping.
Awesome shovel with added features
I wanted a sturdy, heavy duty,non lightweight shovel. A shovel for survival that would fit under the backseat of my truck. This totally fits the bill and is very well made.
Worth it!
My boyfriend Loves this one. We unfortunately bought one before this from another place and it was a piece of crap. Yours is 1000x better quality. The size is great and it works awesome... Well worth it...
Better than expected!
This shovel is way better than I expected. Super high quality workmanship and buying the extra poles to extend it makes it a lot easier. Great purchase. Awesome for gardening and for backpacking it's heavy but you don't need the extra poles to dig small trenches,latrines and camping spots or fire pits. So think about that when you pack this out to camp.
Good Buy!
This shovel is awesome for the price I've used everything and no complaints!!